Version
Download

0

File Size

0.17 KB

File Count

1

Create Date

21st October 2016

Last Updated

21st October 2016
Archive
GCC appeared on Good Morning Britain!
Members of Gabalfa Community Choir appeared on ITV's Good Morning Britain on the day of Wales' Euro 2016 Semi-Final. Well... we tried!
Our recent concert - A Choral Tapestry
Two choirs from two countries, meeting for the first time less than 24 hours beforehand...would Gabalfa Community Choir and Duhallow Choral Society manage to pull off a joint concert?
Bethany Baptist Church began filling up early. The ticket-sellers were busy long before the 7pm start time and a queue stretched into the evening sunshine outside.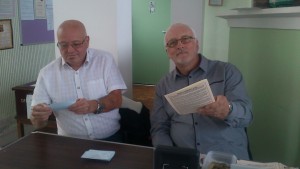 Compere John Brown kicked things off: "Can you hear me in the cheap seats?" He explained the background to the concert: a huge stadium event, due to take place in Cardiff this summer, was cancelled after many choirs had already booked their travel and accommodation. So Gabalfa Community Choir and  Duhallow Choral Society decided to organise their own joint concert: A Choral Tapestry.
Then Gabalfa Community Choir filed onstage to huge applause. They kicked off with All Things Bright and Beautiful and then An Irish Blessing as a nod to the visitors. After the religious songs we heard two Welsh-language songs: Ar Hyd Y Nos and Tra Bo Dau. This was followed by a clever men-versus-women mashup of My Girl and My Guy.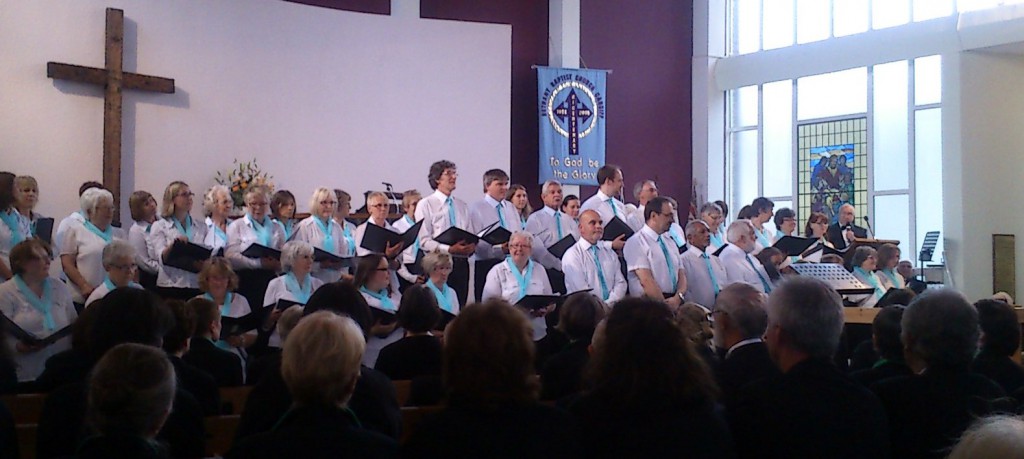 After that, Duhallow Choral Society took the stage for their half of the evening. Their set included a bodhran-enhanced version of Lord of the Dance, two Gaelic-language songs,  the Seal Lullaby and perennial favourite Danny Boy. They were given a standing ovation. Then both choirs joined together for You Raise Me Up. 

Brigid, chair of the Irish choir, thanked the Gabalfa choir for their amazing Welsh hospitality. Duhallow Choral Society had only arrived in Wales the previous night, following a long coach and ferry ride from County Cork, and the two choirs hadn't had much time to rehearse together – but at least they had a chance to get to know each other over a few drinks! She added: "We're praying novenas that Trump doesn't get in, because Hillary has asked us to sing for her inauguration." Duhallow Choral Society have already performed for Irish President Michael Higgins and possible US President-to-be Mrs Clinton!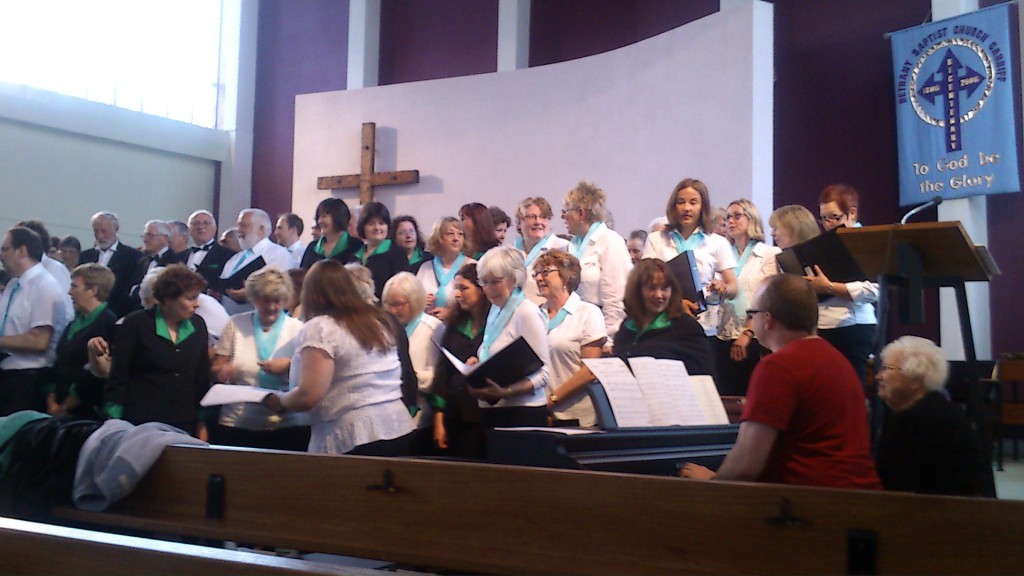 Then Joy Griffin, chair of the Gabalfa choir, thanked everybody who made the event such a success and handed out some gifts of wine. The night ended with everybody singing the Welsh national anthem.
Will this be the last time the two sets of Celtic voices raise the roof together? We think not – rumour has it that there might be a "return match" with the Welsh choir travelling to sing in Ireland. Watch this space!
The concert took place at Bethany Baptist Church on Saturday 21st May. Write-up by Kate Griffin.
All recordings can be accessed from this page:
A Choral Tapestry