Welcome to Gabalfa Community Choir!
Concert News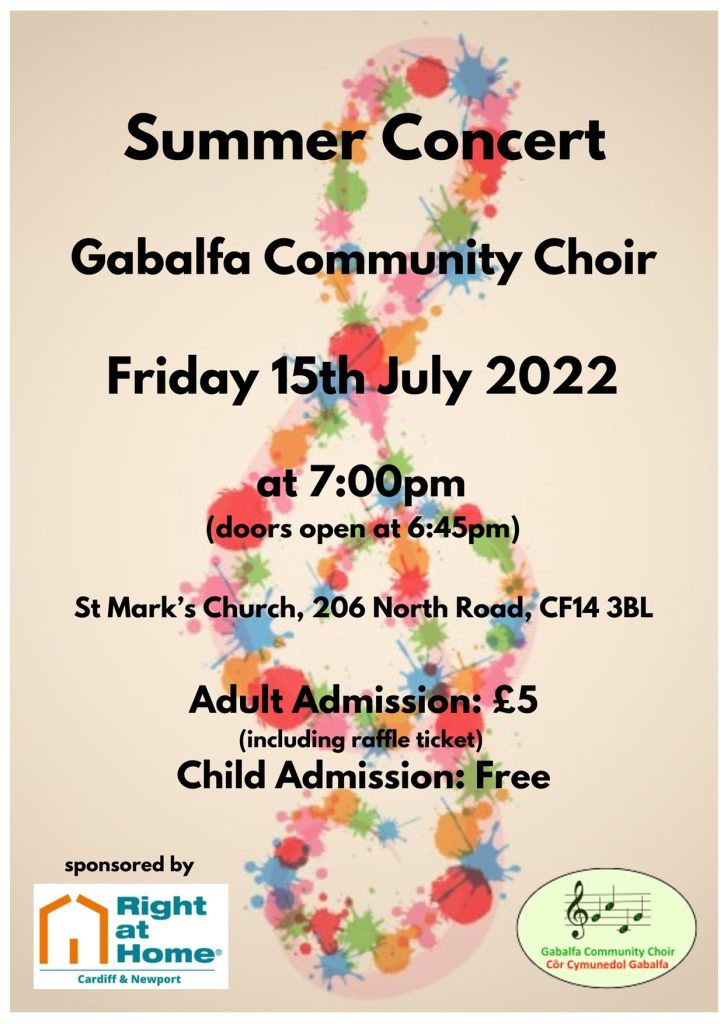 Joining the choir
We welcome adult singers of all ages and abilities. We resumed our regular rehearsals in January. Since all restrictions have been removed, there is no need to book a place, provide contact information or wear a mask. 
If you have not attended a rehearsal for sometime, please check the Rehearsal Tracks page on this website for our full list of songs for this term. If you need printed music for any of them, please email us using the contact form.

Our Background
Gabalfa Community Choir was founded in 2010, initially comprising members from St. Mark's Church, Gabalfa, Cardiff. We have made great progress since the beginning of 2013, and we now have over 60 members in our mixed-voice choir, and they come from all parts of Cardiff and beyond. Members are of all ages and come from all walks of life.  We are all united by one thing, though – a love of singing! The ethos of the choir is simple – it doesn't matter whether or not you can sing well, or read music, you can still join with us and sing your heart out!  There are no auditions and nothing to make a newcomer uncomfortable.  We are here to make friends and to enjoy singing.
The main aim of our choir is to make friends and to make music. We encourage people who would not normally sing to experience the enjoyment of singing in a choir.
The health and psychological benefits of singing are well documented, and we love to encourage people who don't normally sing to come along and experience the camaraderie and companionship that comes with belonging to a group, as well as the sheer joy of singing with others.
Under the direction of our leader, Justine, and accompanied by the incredibly talented Phil, we have developed a varied repertoire. We used to perform just twice a year, once at Christmas and again at the end of the summer term, but as we have become better known, we have been much busier this year, undertaking concerts at different venues in support of charities, and at paid engagements. We also hope to tour every 2 or 3 years.
We hope to see you soon!